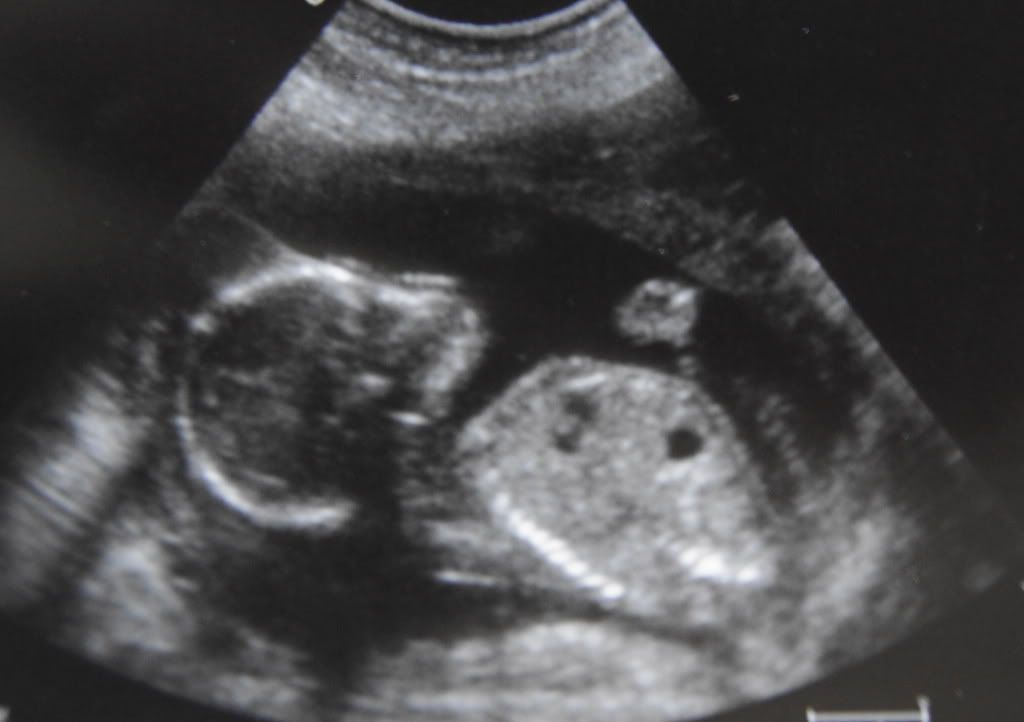 There SHE is. Our healthy baby girl. Stubborn as all get out, but amazing. It took a long time and a lot of jiggling to get even this good of a pic of her. She did not want her profile taken. I'm thankful there's no finger sticking up from that hand, because I think she was about at that point by the end of the scan yesterday. The tech had me laying on my back for a while, but coudln't get the right side appendages, so I moved to my left side. There the tech was pushing and digging trying to get all the veiws she needed. The crotch shot was very obvious anyway and the tech, M and I all saw those three lines. Once the left sided digging got the views she needed for the tests, she had me go back on my back to see if Girly would move around and we could get some "pretty pictures" as the tech said. Nope, Girly just settled back to where she was before. The tech then tried jiggling me, and appologizing as she could also see my bladder on the scan. Um... yeah.
Anyway, we have a healthy girl on the way and are so happy. Granted M was a slight bit bummed because this is more than likely it for us and no son, but he's pretty happy about having his house full of girls.
So, now we have two projects in the works.
1) Trying to figure out how to fit two kids, clothes, beds and toys into one room. M went into the attic to see what we had for clothes and came down with 3 totes full. Each of them had something that mentioned 3 month size, so I have a lot of sorting to do. We also picked up a dresser at Goodwill yesterday. A 5-drawer chest for $7.99. Score! I'm really hoping it fits in the closet, but we'll see. Currently it's in M's mother's van as we didn't have the space in the car with AJ in her seat in the back.
2) Name! Oh this one isn't going to be fun. I have a list of names that I don't mind, not all of them I love, but they're at least ones I'll consider. There are 108 names on this list. M gives me his top two choices. They aren't on my list. Not only are they not on my list, they're on my "No way in you know where" list. Oh joy, looks like we have a long road ahead of us.